At
Waya
We're a team of like minded individuals organised into tribes and squads and work together to work towards our purpose, our goals and our mission.
To us, it just makes sense that a group of smart individuals working in a positive environment would get the best results.
What unites us the most is a commitment to a cause that is close to our hearts and a shared vision to build something of enduring worth and profound personal benefit for everyone of our team members and the larger community.
Meet Our People
Dr. David Wachira
Co-founder & CEO
Maroria Hempstone
Co-founder & CTO
Aenoi Chanthavong
Chief Commercial & Compliance Officer
Ronnie Aloyo
Chief Marketing Officer
Fred Ndavi
Chief Capital, Strategy & Impact Officer
Renzo Sotomayor
Chief Corporate Affairs Officer
Jace Pando
Chief Research Officer
Dr. Robert Chiuri
Officer Chief Partnerships & External Affairs
Stephen Matagaro
Chief Legal Officer
Dorcas Njuguna
Executive Assistant & Project Manager
Florence Mugo
Senior Risk & Compliance Officer
Mercy Wambugu
Talent & Human Capital Officer
Thomas Mutua
Accounts Officer
Rodah Mwende
Finance and Operations Officer
Wilson Mburu
Finance & Product Officer
Gladys Maina
Junior Digital Media Officer
Dennis Maina
Blogger & Content Writter
Catherine Mutahi
Digital Media Officer
Favour Obasi-Ike
Digital Media Executive
Caroline Kamau
Communications Officer
Muhammad Izhar Akram
UI UX Designer
Kering Kipngeno
Senior Backend Engineer
Godfrey Munene
Product Officer
Ernest Okiya
API Engineer
David Macharia
Development Lead
Adrian Muthomi
Mobile Engineer
Ben Mburu
Senior Software Engineer
Alex Kabui
Product Officer
Ayman Al-Junaid
Web Developer
Abraham Kivondo
Junior Software Engineer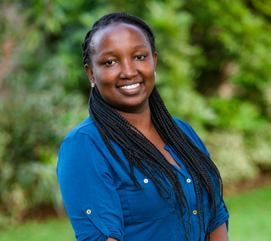 Mercy Thira
Backend Engineer
Angela Nyasae
Product and Customer Experience Officer
Mary Nanjira
Customer Support Manager
Jimmy Charo
Customer Support Specialist
Esther Ramadhan
Customer Support Specialist
Susan Waweru
Customer Support Specialist
Joshua Mungai
Creative Director
Marvin Ndungu
Graphic Designer
Ian Oyugi
Video & Motion Graphics Designer
Brian Kamunya
Junior Graphic Designer
Roman Lenjo
UI UX Designer