No Monthly
Fees.
We are not into fees
$0 set up fees.

$0 monthly fees.

$0 transfer fees.

$0 hidden fees.
Get Waya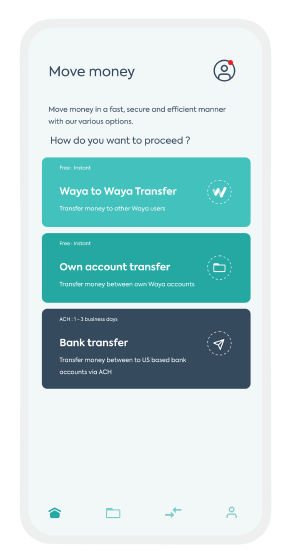 Maintain your lifestyle without a maintenance fee.
No monthly fee means more money in your account!
Waya's no-fee checking account is a no-strings-attached account, so you can worry less about maintaining one and focus on your financial goals.
Bank on your own terms.
You can't make boss moves if you are not the boss of your checking account.
Waya does not demand a minimum bank balance, so you may deposit as little as you want or make a sizable transaction and be on your merry way.
Expect absolutely no surprises.
Happiness is zero surprise fees from your bank. We know lack of transparency sucks.
With Waya, you'll never have to sift through statements to understand what you are being charged for since we spell it all out for you right up front.